Introduction to Indian Leather Industry
Because of its capacity for rapid expansion and development and emphasis on luxury, the Indian leather industry is able to satisfy rising customer demand for new product offerings and trends. However the reputation of leather product manufacturers is growing in specialized markets thanks to innovative items like purses and backpacks created from distinctive raw materials. Coach is branching out into high-end accessories with its well-known purses, which necessitates a variety of exotic raw materials and offers opportunity for tanneries that specialize in these little but significant niches. Hence if you want any kind of leather product whether it is gloves, jacket and trousers, simply reach out to the PL Global Impex Pte Ltd. website.
Why Is the Leather Industry Important?
It's easy to forget that people have been producing items for hundreds of years, the majority of which are still in use today, in our modern environment of mass manufacturing. Leather is one of these robust items. If you have an idea for anything that would be made of leather, you might want to learn more about how leather is produced so that you can appreciate your favorite shoes or belt even more. Whatever your preferences, leather was unquestionably one of man's first materials. Due to its many benefits, it has endured longer than many previous trends and fashions. However throughout history, various cultures have utilized leather for a variety of items, including clothes, furniture, saddles, and handbags. PL Global Impex Pte Ltd is the leading import export business and connects with the best leather goods manufacturer to make your need fulfilled.
Is The Leather Business Profitable?
Are you thinking of starting a leather-related business? Are you looking for low-cost leather business ideas or investments with a high rate of return? The leather sector enjoys widespread recognition. Due to consumer demand for contemporary fashions and cutting-edge designs, the market for leather goods has recently surged. In 2020, the market for leather goods manufacturers is expected to be worth USD 394.12 billion.
Between 2021 and 2028, industry analysts predict a compound annual growth rate (CAGR) of 5.9%. There are alternative options to start with less money in the leather industry, even if certain businesses in the area require a lot of cash and management. In addition, even for home-based enterprises, less capital investment the leather industry is broken down into a number of subsectors, including saddlery and harness, footwear and footwear components, leather garments, tanning and finishing, and leather goods.
Growth of Indian Leather Industry:
However India is the third-largest exporter of saddlery and harness, the fourth-largest exporter of leather garments, and the second-largest exporter of leather items worldwide. One of the world's most powerful nations now is India. One of the most significant nations in the world for finishing and tanning hides. Moreover the leather industry is anticipated to expand at a rate of 5–10% annually and account for about 6% of India's GDP. However India is the fourth-largest exporter of finished leather, the third-largest exporter of footwear, the third-largest exporter of raw hides and skins, and the eighth-largest exporter of leather apparel worldwide.
Among the top 10 exporters of leather goods manufacturers worldwide is India. With more than 20 million people directly employed by it and more than 100 million indirectly reliant on it, it is poised to contribute even more to the creation of new jobs in the future. Over $40 billion worth of leather is produced annually by the global leather industry. Everywhere in the world, leather products are in demand. One of the most well-liked is it. The leather industry is growing as urbanization and population growth take place. Since people regularly utilize its products, the leather sector is profitable. The industry's reach is constantly growing as a result of its broad range of applications.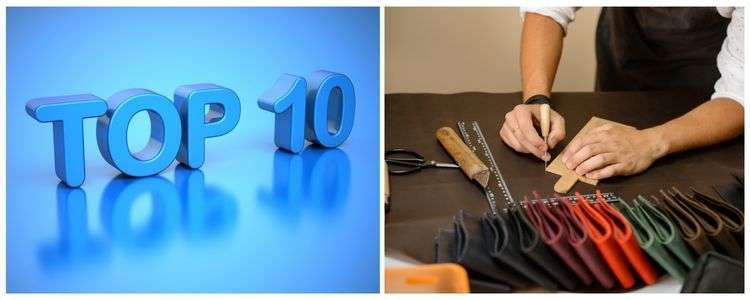 Top 10 Leather Product Manufacturers in 2022
The leather industry in India contributes significantly to the global market for leather goods.
The top ten businesses that produce leather are:
India ranks as the sixth-largest exporter of rawhide, hide, and leather products. India provides the greatest amount of buffalo products. However the production of leather in India is one of the most significant industries worldwide and the main industries with high demand are clothing, footwear, interior design, and furniture. Leather is a status and superiority symbol. Around 13% of the world's hide is produced in India, and 10% of the world's footwear is made there. Although skilled labor, cutting-edge technology, and industry norms that meet global industrial standards are all present in the Indian leather business.
1. Bata India Ltd.
Thomas Bata established Bata India Ltd. in 1984. Switzerland's Lausanne serves as its administrative center. In the Indian market, Bata is well-known and well-liked for its broad selection of goods, including footwear, apparel, and accessories. Within a few decades, Bata has established a commanding position in the Indian market. Asia, Africa, Europe, and Latin America are all served by Bata in addition to India.
2. Bhartiya International Ltd.
One of India's top leather product manufacturers is Bhartiya International Ltd. At the time the business was founded, in 1990, celebrities were starting to wear leather clothing as a statement of style. However Bangalore, Chennai, and other southern regions of India are the primary locations for Bhartiya International Ltd.'s production.
3. Farida Group
The Farida group is among India's top 10 leather production firms. This is a leading producer of polished leather as well as high-end footwear for both men and women. However the Farida group operates in the leather, uppers, and shoe manufacturing industries. The group has various companies which are as follows-
Farida Shoes Pvt Ltd

Arcot Soles Pvt Ltd

Farida Classic Shoes Pvt Ltd

Delta Shoes Pvt Ltd

Farida Leather Ware Private Limited

Farida Prime Tannery

India Shoes Exports Private Limited

Kenmore Shoes Private Limited

Farida Tannery PLC- Ethiopia
4. Lakhani Armaan Group
With the establishment of Mr. K C Lakhani's Lakhani Rubber Works, a manufacturer of automotive components, the group was born in 1966. However the company is now engaged in the production of sports shoes, canvas shoes, and beach slippers. In addition, the group's companies include Mascot Footcare, Lakhani Shoes & Apparels Pvt Ltd, Lakhani Rubber Products Pvt Ltd, and Lakhani Footwear. It is concerned in the production of shoes for men, kids, and women.
5. Liberty Shoes Ltd.
By the name of Pal Boot House, Dharam Pal Gupta, Purshotam Das Gupta, and Rajkumar Bansal launched Liberty Shoes in 1954. Karnal, Haryana, serves as its headquarters. It is among the top ten leather product manufacturers in India.
6. Mayur Uniquoters Ltd.
The business is a leading producer of PVC vinyl and faux leather. In the Asia Pacific region, Mayur Uniquoters has earned a spot among the "Forbes Asia Top 200 under $1Bn firms." For automotive, footwear, furniture, leather products, and clothing, Mayur Uniquoters offers artificial leather.
7. Metro Brands Ltd.
Malik Tejani launched the business in 1947. In India, it operates a multi-brand footwear store network. Similarly in the footwear sector, the company is renowned for its expert craftsmanship, unrivaled quality, and high fashion products. It has a nationwide network of Metro showrooms. It offers a big selection of accessories and footwear.
8. Mirza International Ltd.
The business was founded in 1979. It is the top leather product manufacturer to prestigious multinational brands. It ranks among the top ten manufacturers of leather in India. You may access more firm data, such as the number of employees, turnover, decision-makers' specifics, and more, with PL Global Impex Pte Ltd.
9. Relaxo Footwear Ltd.
The business was founded in 1976 and has its corporate headquarters in New Delhi. Also this is providing a wide variety of footwear collections for kids, ladies, and adults that are stylish, cozy, strong, and colorful.
In addition, two brothers, Mukund Lal Dua and Ramesh Kumar Dua, had a desire in 1976: to grow their father's footwear business into Relaxo, one of the most renowned and well-known footwear brands in India. Also there are many other sub brands under it, including Sparx, Bahamas, Flite, Schoolmate, and Relaxo Hawaii.
10. Superhouse Ltd.
Conglomerate Superhouse Ltd has many different divisions and products. It focuses on the manufacture and export of footwear. The business creates textile clothing as well as leather and quality leather products of various kinds. It ranks among India's Top 10 Manufacturers of Leather.
Read more: Top Import Export Companies in the World.
Hence it is clear that India's economy is expanding across a number of industries, with leather production being one of them. India is the sixth-largest exporter of leather worldwide. Worldwide, the leather manufacturing business is booming, and India's leather industry plays a vital role in it. Also these days, leather is available extensively in a variety of products, including clothing, footwear, and automotive interiors. Hence India is now one of the top 10 leather-producing nations in the world thanks to the top 10 Indian leather manufacturing enterprises. The world's largest exporter of leather is India. Hence if you want to know more about the leather industry or buy leather products, simply reach out to PL Global Impex Pte Ltd.